If you are anything like me – you love a Friday night with a new Netflix rom-com. After last weeks disappointing 'The Perfect Date' – I was hoping for something great and boy did Someone Great deliver the goods.
I am obsessed with this movie. Someone Great is the best rom-com of the year thus far. I want to rewatch this movie over and over and reference it in every conversation.
I don't really want to spoil this movie for you – but I really want to talk about it.
So let's divide this into two parts – WHY you should watch this movie and WHY this movie was amazing. If you are reading this for the 'why you should watch this movie', I'll make sure you know when to stop reading to avoid spoilers.
This is not a 'teen' rom-com, this is very much a 'young-adult' rom-com. I might even go as far as to say it's a 'coming of age' movie for women in their late 20s. If 20-somethings had a 'last summer before university' time frame – this movie would be it.
Our leading lady Jenny, played by the incomparable Gina Rodriguez (who we all know and love from Jane The Virgin), has been offered this incredible job on the other side of the country. She's career focused and excited about the opportunity but this move doesn't work with her relationship and she and her boyfriend of nine years (Lakeith Stanfield) break up.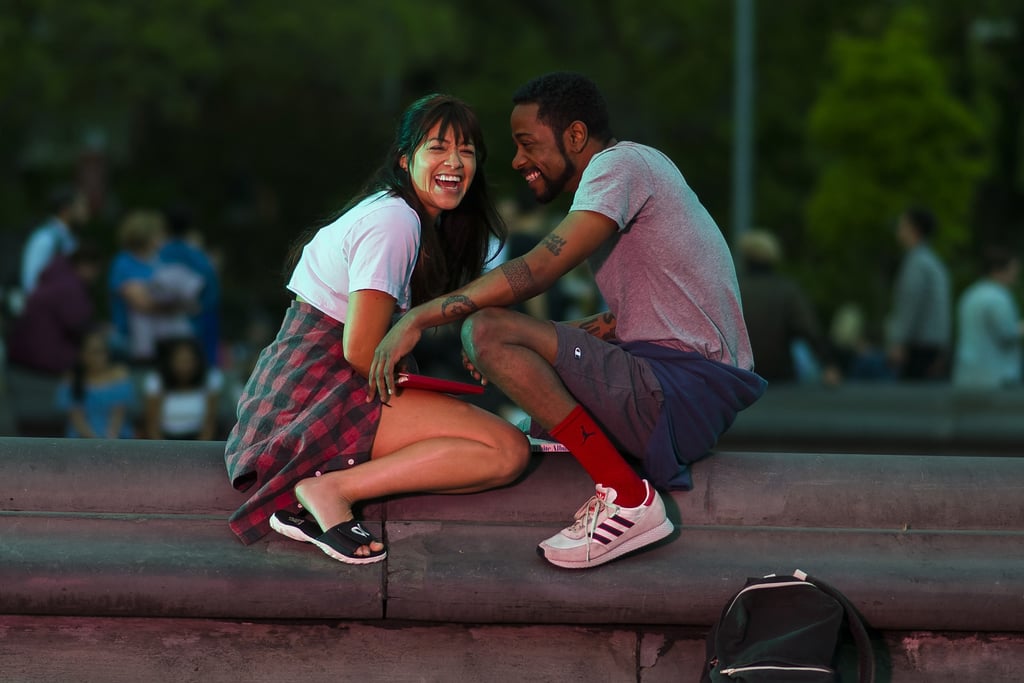 She gathers her two best friends, Blair (Brittany Snow) and Erin (DeWanda Wise), to have one last EPIC weekday.
Someone Great is the ultimate party – the amount of champagne and tequila these girls drink, mixed with the weed and molly, would probably kill the average person. However, chuck in a killer soundtrack and a few outfit change montages and the movie is able to bring the audience on to their level.
I'll give some of the credit to Gina Rodriguez – she is incredible in this role. Both Snow and Wise equally crush it. But most of the credit has to go to Jennifer Kaytin Robinson – the writer/director.
Bustle published a great interview with Jennifer Kaytin Robinson:
"I originally pitched the film as 500 Days of Summer meets Drunk History… I hope it makes you want to text your best friend or call your best friend and give your best friend a big hug," writer-director Jennifer Kaytin Robinson says of Someone Great. "And I also hope that it makes you want to text your ex, but I do not think that you should do that."
She 100% did this. The writing is amazing. The references to BBM, Pixar, and Harry Potter are the things millennial dreams are made of. The overall vision of this movie is so well executed. This is Robinson's feature debut and this movie makes me so excited for her next projects.
Really what needs to be said is that this movie has something for everyone:
Gina Rodriguez at her best ✔️
A Black Queer love story portrayed by the hilarious DeWanda Wise ✔️
Brittany Snow playing a loveable basic blond bitch ✔️
Breakups AND hookups ✔️
Career-focused ladies ✔️
A KILLER soundtrack ✔️
Fantastic wardrobe ✔️
A cast of boys that drive you crazy (in all the ways)✔️
RuPaul ✔️
Like personally – I don't know what more you want in your Friday night Netflix rom-com?
But let's cut off our friends who haven't seen the whole thing at this point and dive deeper into the specific plot points that made me fall deeply in love with this film. SPOILERS AHEAD:

Here are my top ten things I want to talk about after watching this movie:
1 – The supercut of the texting, gmail emails, iphoto albums etc was AMAZING. The details of the tech updates was perfection. Lorde's 'Supercut' playing in the back… I knew when I saw that scene this movie was going to be FIRE.
2 – Brittany Snow's men. The terrible boyfriend off the top was hilarious. I feel like we have all seen a friend with a shitty boyfriend and wanted to vomit. Anytime her OG dude showed up (especially in the pink polo….) it was cringe city. The second man in her life was equally terrible – but it was so great seeing her character find someone she actually had a spark with.
3 – If you know anything about music use in TV/Movies you know how impressive their music team is. There are a lot of songs in this movie that blend into the plot and are critical to the story. Think Lizzo's Truth Hurts and Selena's Dreaming of You. Plus Jessie Reyez's Neon Classic cameo is amazing. (p.s. shoutout to her Canadian Remix Project Roots – she deserves all this love and more). Basically, I cannot stop listening to the soundtrack – so well done to the music folk. (also here is a clip of Jessie Reyez on q singing an acoustic version of Great One … again #TeamCanada)
4 –  The trigger flashbacks are such a great way to tell a story and show how much this relationship meant to her. We all have those songs and 'diet cokes' that trigger memories of people. The way this movie seamlessly transitions between the past and the present is so lovely.  Changing the lighting is starting to feel a bit predictable, but I still love it. This time, they for a neon/pinkish lighting. It was wonderful.
5- The feminist references in this movie were 10/10. From #TimesUp to the weird segway dude declaring "I love female directors for real" – I was here for every. single. one.
6 – This line:  "…then I turn 30 and then I die probably". This is probably what will happen right?
7 – I have so much love for Paul Feig it's crazy. This is a man who supports women and creates projects for women. If you didn't know he's a producer on Someone Great  – but before this stellar project, his CV includes Bridesmaids, Ghostbusters (the lady version), and The Heat among others. I am so glad he's continuing to back these projects and backing young female writer/directors.
8 – THE END.  When Jenny is writing on the subway and she's monologuing about shattered glass… I teared up. I watch a lot of romantic movies. This is 100% my favourite genre. However, most of the time we get to see the happy ending, Someone Great doesn't give us a happy ending but an 'it's going to be ok' ending. I think we're all a bit afraid of the end of relationships you know? But this movie is the perfect – 'yup, it sucks you broke up, but focus on your friends and it is not the end of the world' – message we all need sometimes.
9 – This movie might be about Jenny but I'm very into Bad Blair and love vulnerable Erin. The best friends have strong storylines that go beyond the 'best friend advice' we normally get. These women are their own leading ladies and their growth over the course of the movie was gold. I would watch 100000 more stories about these three. Please make a tv show spin-off soon 🙂
10 – This movie makes me want to have a bender day with some friends. So if that is you. Hit me up 🙂
Someone Great is streaming on Netflix. 
Also p.s. y'all need to read this thread on Twitter – is relevant to this movie: