Wicked funny and equally touching – Derry Girls is nothing short of brilliant and is destined to become a cult favourite.
The show takes places in the 1990s and focuses on teenagers Erin (Saoirse-Monica Jackson), Clare (Nicola Coughlan), Michelle (Jamie-Lee O'Donnell), Erin's cousin Orla (Louisa Harland), and Michelle's English cousin James (Dylan Llewellyn) in Derry.
Derry Girls first aired on Channel 4 in Janurary, 2018, but Netflix didn't gift Canadians this show until late December. Overseas, this show is a smash. It is the biggest series ever in Northern Ireland since modern records began in 2002.
Watch the pilot for the nineties music, butterfly clips and general hype – but you'll get hooked on the well developed female characters.
With only six 30-minute episodes, the rich development of each of the characters is ridiculously impressive. Creator and writer Lisa McGee has knocked it out of the park.
Erin is your typical teen. She loves her friends, wants to date the cool guy, and never misses Murder She Wrote. She just wants to be cool/normal so badly. There is a level of arrogance there that all teens have, but there are just so many cracks in that veniner making her much more endearing. Part of my endless love for Erin is the way she holds her face. Saoirse-Monica Jackson's facial expressions are off the charts – from utter disgust to confusion to desperate cool girl. It's the double, triple chin she pulls that makes me love her that much more.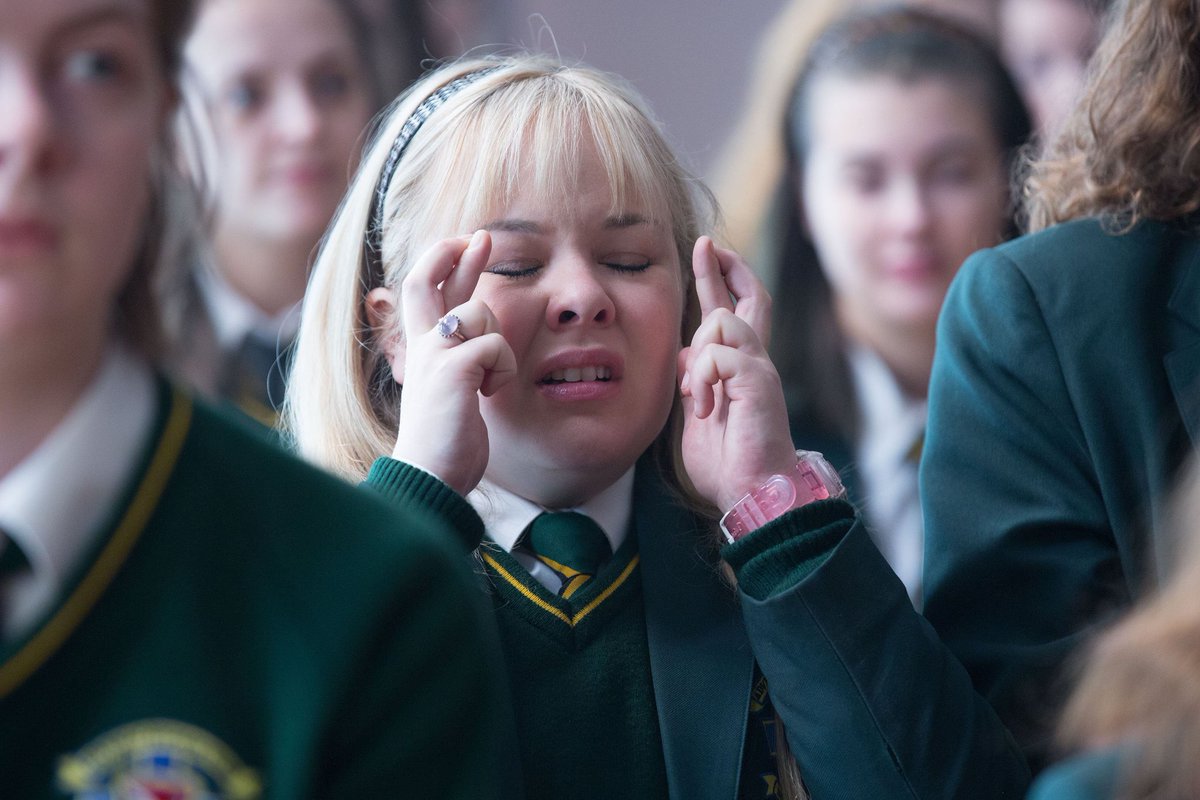 I adore Clare. She needs to chill – but she means so well. Her constant state of panic is so perfect. She is trying so, so hard. Whether she is fundraising for Ethiopia, studying for exams, or trying to find humanity in the Troubles, she gives it her all – for better or worse. Clare is one of the most quotable characters on this show. Her lines never fail to make me laugh. Let's give credit where it's due – Nicola Coughlan's performance is incredible, even more so when you find out Coughlan is 31.
Michelle is so fierce. Her unwavering self-confidence is great. She's brash, speaks her mind (with plenty of foul language) and loves a strong drink. She cares about her friends and is always up for a good time. She's having a laugh and makes sure her uptight friends let loose every once in awhile. It gets them in troubles sometimes (read: always) but Michelle's antics push the story forward episode after episode. Jamie-Lee O'Donnell crushes it – I'm obsessed with her. Might even go as Michelle for Halloween I love this character so much.
Rounding out our Derry Girls is Orla, our resident space cadet. She seems just happy to be here. Is she stoned or is just unique – who knows but I'm into. I adore the dynamic between her and her ma – it's perfection. Two peas in a pod. I wondered why the girls put her up with her – other than the family connection – but in the last episode the girls really step up for her and reminded me of why I'm friends with some of folks I'm friends with. They might be weirdos – but they my weirdos 🙂
Finally – we have to talk about honourary Derry Girl – the 'wee English fella' James. The lone boy – the true hero of the show. Putting up with these four girls is a feat. They take the piss out of him in almost every scene. Yet, there he is, studying with the girls, going to parties with the girls… standing up for the girls when they need him. He's a bit of a dick, but much like Orla, he's their dick.
Watching these five interact with the world around them is such a joy. More so because the writing is so strong.
The pace of the show is wicked fast. If you laugh too loud at the last joke, you might miss the next one. With that kind of speed, writer Lisa McGee could give Amy Sherman Palladino a run for her money.
Every line is a hit. It is so quotable. Within the first minutes of meeting Clare we were gifted this gem: "I'm not being an individual on me own."
This scene is specifically quotable/iconic:
"Ya, it's so sad. So so sad, but then again you know what's done is done. So let's crack on."
The ridiculous situations these girls get into is an integral part of the fun. Take this review from the Guardian as an example: "Derry Girls is reckless, joyful and celebratory, whether they're explaining why they almost burned down a chip shop, or why they definitely did not kill a nun."
In the background of all the shenanigans is the Troubles in Derry.
Derry – "Or Londonderry, depending on your persuasion – [is] a troubled little corner in the north-west of Ireland," as Erin earnestly describes it in her diary. Derry was severely impacted by the Troubles. The 1972 'Bloody Sunday' took place in the city and throughout the conflict over 200 people died.
Being Catholic puts our girls in the minority in the loyalist-Protestant heavy Derry.
As Siobhan McSweeney as Sister Michael puts it, they shouldn't, "worry themselves too much about the whole 'civil war sectarian conflict' that's carrying on. There's only one thing you need to know. We're the goodies."
While The Troubles permeate throughout the show – it really is about teenagers being teens regardless of the circumstances. The teens in this show are more concerned how the bombs will impact their school route or if they can hook up with a British soldier, than the political impacts of the conflict around them. Soldiers and tanks are more background than the main focus.
Side note: It is a very interesting time to think about The Troubles and how it impacts the locals as Brexit and the Northern Ireland Border are front of mind once again.
Being Catholic in Derry also gives the show a hilarious run of jokes.
It's very well done.
Praying to 'Big M', meeting the hot priest, being taught by nuns. It's all so great. But the true greatness is Sister Michael – she is a gift to us all.
This is a low commitment show – only six 30-minute episodes so far. You're going to get hooked and left wanting more. But don't worry. They have commissioned a 2nd season rumoured to be airing in March 2019.
Once you've blasted through the show – put on this playlist and embrace your own inner Derry Girl 🙂
Derry Girls is now Streaming on Netflix. 
https://open.spotify.com/embed/user/channel4.com/playlist/3SbYFdqU8rlckpgN6scml9