I really want to talk about the BBC thriller – Bodyguard.
I love a show about a power lady in a killer blazer. Give me a lady in politics and I'm all in. Madam Secretary, The Good Wife… Bodyguard – sign me up.
If you somehow missed it – here's a trailer to hook you in:
I finished the show two weeks ago and I can't stop thinking about it.
So let's discuss.
DO NOT READ ON IF YOU HAVEN'T FINISHED THE SHOW.
We open on a train and it looks like it's raining. It's very British and I'm into it. Just like I'm into Richard Madden's cheekbones. Aka I'm into it a lot.
Madden as David Budd is phenomenal. He just has such an intensity. He might be famous for Game of Thrones – but he should win a BAFTA for this performance. (I also think he should win an award for his cheekbones – but that's another post). Is Budd a good guy, is he a bad guy? Madden's raw intensity makes it so easy for Budd to be either – or perhaps simplifying him into good or bad isn't quite right. Every time I thought I had figured out what kind of person this character was or what his intentions were, he would serve into a different lane.
It's his layers of complexity which make him such an interesting title character.
Each episode was a rollercoaster of Budd's emotional state. He clearly has been trained to take control of the situations he's in. He's smart – and very good at his job. But his job has taken over his life. He clearly has PTSD from his time in Afghanistan. This affects the way he does his job, but more distressing to him – it affects his relationship with his wife and his kids. It is truly heartbreaking watching Budd's life implode.
Budd is be the character who draws us in- but it's the women around him who run the show.
Off the top – Keeley Hawes as Home Secretary Julia Montague is stellar. She's cutting and wicked smart. Her quips are extremely well written and Hawes delivers them effortlessly. "The thing is David-slash-Dave, I don't need you to vote for me." Like Budd, Montague's complexities are remarkable. She is a woman on top the of her game professionally. She clearly has the skills to make a bid for the leadership of her party. She's articulate, brilliant and put together. Yet – these powerful qualities make her a target because of her gender (she's not bossy – she's the boss). If she's assertive – she's a bitch. The men around her clearly cannot handle it – but I love it.
The Montague-Budd relationship professionally is fascinating to watch – but their personal relationship is really what I'm here for.
The moment the two blend and it switches from professional to personal is one of the best five minutes of TV this year:
It is highly upsetting, graphic, and haunting. It's the kind of scene you can't stop thinking about – and won't stop talking about. Watching Budd take control the situation is memorable- but its when he attempts to calm Montague down by holding her hand while they are both covered in blood that sticks with me. It is an unbelievably well crafted scene. The acting is incredible, the stunts are amazing but I've got to give two particular shoutouts to the production team:
Kudos to the costume team – putting her in a white suit magnified the blood splatter. Genius.
Kudos to the sound team – every plunk of a bullet hitting the armoured vehicle was terrifying. I didn't need to see anything – just hearing the sound made my skin crawl. (Actually kudos to the sound team throughout the whole series – it is AMAZING).
When Budd approaches the sniper – and discovers his army buddy, Andy Apsted (Tom Brooke) – my heart sank. Whenever you think this show hits its traumatic peak – it always gets worse.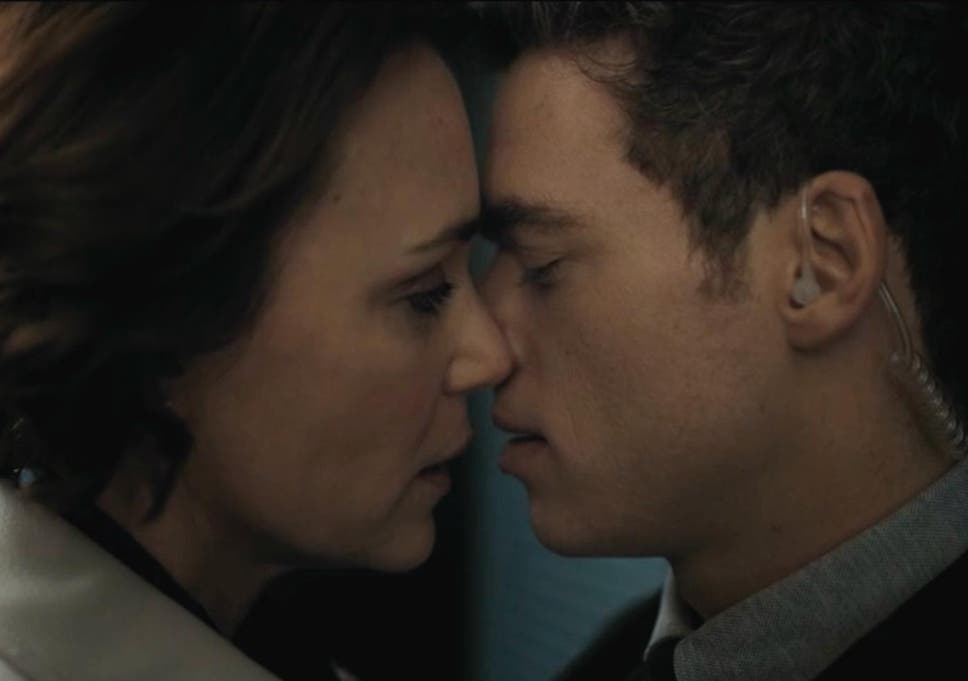 After this scene watching Budd-and-Montague shift into David-and-Julia and start an affair was stellar. David has been pushed away by his wife Vicky (a woman who we will get to) – and as much as Julia needed reassurance from the man who saved her life(and a man with those cheekbones), I think David needed companionship too. But while I think this started as a post-trauma need, I truly think David fell for her – surprising himself and complicating matters greatly. We see it later as it drove him to the edge fighting for her.
Two tangents on this topic:
One – please go down the tumblr/twitter rabbit hole with their relationship. It is gold.
Two – an excellent point worth noting from Grazia Daily: "But as Hawes is 42 and Mad­den is 32, we can safely as­sume that their char­ac­ters are meant to be at sim­i­lar stages in life, mean­ing there'll be a dif­fer­ence of about ten years be­tween them. Of course, these num­bers should be unim­por­tant, ir­rel­e­vant even – so why raise them at all? Be­cause the fact that no one has, so far, made a big deal of this gap is ac­tu­ally a pretty big deal in it­self."
Their relationship was so complicated. His doubts around her and the school attack; when he attacked her in a rage; when she had him secretly drop him off to an undisclosed location; all of her secrets – including the kompromat; the fact he was spying on her. Then she says she wants him by her side, not because it is his job, but because it's their choice right before she gets blown up. Cue the tears.
But it's the complications that successfully confused me – and I'm sure much of the audience. I think David loved her – but also maybe he killed her? I wanted so badly to believe he cared – but the twists kept putting doubt in my mind.
I also wanted to believe he still loved Vicky. Watching Budd attempt suicide was awful but having to watch Vicky pick up the pieces was painfully heart wrenching. We knew Vicky had started to move on from David, but you could still see the sting in her eye when David showed up at her work to tell her about his affair with Julia. What more could this woman take with this man? Well apparently a lot.
Watching her stand up for him and walk by his side as he was in the suicide vest – I couldn't breath. Give Sophie Rundle a BAFTA too.
There are so many complex ladies in his life.
Commander Anne Sampson (Gina McKee), Head of the Metropolitan Police Counter Terrorism Command and Chief Superintendent Lorraine Craddock (Pippa Haywood), Head of Protection Command – are both FANTASTIC. I couldn't read Sampson – who's side was she on?! She wanted Budd to spy on Montague. I thought she was the bad one and Craddock was there the good one. Craddock was there for Budd and she was so convincingly trustworthy – I never saw that final twist come out when she was involved. I audibly gasped at my TV.
Another GASP worthy moment – Nadia's reveal.
That moment when her body language completely changes and she confesses everything was chilling. The acting was 11/10. Anjli Mohindra SHOULD GET A BAFTA. (This cast is so strong. I feel like there will be an Oprah moment – you get a BAFTA, and you get a BAFTA, everybody gets a BAFTA.)
As much as I loved this show – it has one core fault. There has been a lot of chatter online about if this show is Islamophobic. It is and it's an important conversation to have.
Tasnim Nazeer from the Guaridan had this to say: "Watching those gripping opening scenes I still hoped that the writers would change the narrative and make her the unsung hero. As the weeks passed my hopes faded. The victim narrative prevailed. However, my heart sank even further in the series finale when this Muslim woman was revealed to be the terrorist mastermind. As she says, no one suspected her because they were taken in by the "vulnerable Muslim woman as a victim scenario"."
Bodyguard fails The Riz Test:
If the film/show stars at least one character who is identifiably Muslim (by ethnicity, language or clothing) – is the character…
Talking about, the victim of, or the perpetrator of Islamist terrorism?
Presented as irrationally angry?
Presented as superstitious, culturally backwards or anti-modern?
Presented as a threat to a Western way of life?
If the character is male, is he presented as misogynistic? or if female, is she presented as oppressed by her male counterparts?
If the answer for any of the above is Yes, then the Film/ TV Show fails the test.
Sadly, this is quite common in TV in 2018. I'll be interested to see what they do or if they do anything at all to fix this problem in a possible series two.
This show was supposed to be a proper mini-series. Six episodes and done. But this show crushed all expectations of viewership.
During it's first run on the BBC –  10.4 million viewers tuned in.  It was a larger average audience than any other UK TV show outside the World Cup. It has the largest audience for a drama on British TV since ITV's Downton Abbey. Take this from the Guardian:
"The last time the BBC had a comparable audience for one of its dramas was the Christmas Day episode of Doctor Who in 2008."
The story might be done but the BBC has a lucrative opportunity that I doubt they'll pass up.
So here's my proposal:
I would like to see a Detective Sergeant Louise Rayburn spinoff. She stands by Budd when her partner doubts him. She doubts him when he's in a bomb vest – but that's fair. She also fights for him to get the help he desperately needs at the end. I'm a big Louise fan.  PLUS shout out to the casting team – great choice with Nina Toussaint-White. It's very nice to see a woman of colour in a position of authority and as one of the moral compasses of the show. Think of the cop show – it would be SO great.
But apparently creator Jed Mercurio is interested in a Bodyguard season two and Richard Madden is in talks to go back… and as much as I love Lousie… I'll take another season of those cheekbones any day.
#Bringbackthecheekbones