It's been two weeks – so you have had plenty of time to watch and rewatch this movie. There will be spoilers in this post and there will be book vs movie chatter. And it will be about 3000 words… because I have a LOT of opinions… You have been warned.
Let's just establish my current feelings: I LOVED THIS MOVIE SO MUCH.
I'm on a serious To All The Boys I Loved Before bender. I would say that I'm on a Peter Kavinsky bender – but my love goes deeper than his eyes…
I don't know how to start to explain how hard I fell in love with Lara Jean Song Covey's love story. Over the past three weeks, I've read the 1st book, watched the movie, read the 2nd book and then the 3rd. I laughed at Kitty's sassy comments and I cried when Peter Kavinsky and Lara Jean couldn't get their shit together to be together.  
I fall hard when I fall in love with something. I go on these ridiculous benders where I need to consume everything I can get my hands on that is related to the thing I'm obsessing over. Past examples include Harry Styles and Harry Potter.
To All The Boys I've Loved Before hit me hard.
I know that I'm not alone on this one. Many many friends have texted telling me about their own love for Peter Kavinsky. So let's break it down and discuss why we have all collectively fallen in love with To All The Boys I've Loved Before.
Lara Jean Covey is the rom-com lead we all needed.
I'd say the key word here is relatable.
She's a Rory Gilmore type of girl. She's more interested in staying home and watching movies with her family than going out to parties. She feels like most of the girls I was friends with growing up. We tell so many stories about the 'popular' girl in high school. Shows, movies and books that focus more on the Marissa Cooper's, Lyla Garrity's and Blair Waldorf's of the world. I always gravitate to shows with more complex characters –  I adore 10 Things I Hate About You because of Kat Stratford. Veronica Mars has layers. Princess Diaries' Mia Thermopolis makes me so happy. Lara Jean is the girl we need in 2018 to take on the awkward, smart girl role.
She's nice – and not in a way that makes you roll your eyes. It's genuine. She cares deeply about her sisters. She is loyal to her friends. She looks out for her dad after her mom died.
Lana Condor does an amazing job bringing this character to life. Her facial expressions are killer. If I was 16, I'd want to be like her. In interviews she feels like someone you could be best friends with, but equally someone you would look up to.  I have a sneaky feeling like the kids I work with will idolize her.
Beyond her great personality and incredible attributes – she's Asian-American and that is important for so many reasons.
Jenny Han, the author of To All The Boys I've Loved Before had this to say about Lara Jean in the New York Times:
"What would it have meant for me back then to see a girl who looked like me star in a movie? Not as the sidekick or romantic interest, but as the lead? Not just once, but again and again? Everything. There is power in seeing a face that looks like yours do something, be someone. There is power in moving from the sidelines to the center."
We get to see a character who eats Korean food and boys who are open to trying it too.  Fun fact: Apparently because of this movie korean yogurt sales are up.
So as we start this world around a girl who is a character we want to root for – we add in all the key ingredients to make a perfect rom-com.  
A cast of other wonderful complex women.
We've got her sisters. Margot and Kitty. In the books these two are great characters – but in the movie, I think they really screwed up Margot and made Kitty even better.
Janel Parrish is a terrible Margot. Parrish is 30 in real life – she's supposed to be 18, just two years older than Lara Jean. Parrish is wonderful as Mona – but she's long done playing high school characters. This feels like a 'celebrity' cast – aka they needed a 'name'. Bad call. There were also quite a few book-movie changes around this character that I did not enjoy. For me – if there is one thing wrong with the movie, it's Margot.
Canadian Anna Cathcart is an AMAZING Kitty. She crushes every line she's given and while you know she's the one causing all of Lara Jeans 'problems' – she is so loveable you can't help but be proud of her. Bonus points for this killer line: "Says you Dr. Man"
Then we have the cousins – Christine and Genevieve.
I adore the Chris – Lara Jean friendship. The extroverted/introverted best friends is a dynamic duo that I know well. She's always there pushing Lara Jean out of her comfort zone, pushing her to have fun and try something new. She also brings some comic relief to the table. Favourite line: "I'll be in the nurse's office with a "migraine" Googling Justin Trudeau shirtless.
Then there is Genevieve. Emilija Baranac crushes the mean girl role. Rocking uggs. Taking the scrunchie. She makes it so easy for us to hate her… and yet, there is enough there that I could maybe be empathetic to her story as the books progress.
The girls all have killer costumes. There are many articles out there about the 90s references. Specially towards Alicia Silverstone's Cher Horowitz in Clueless.
The sets are amazing.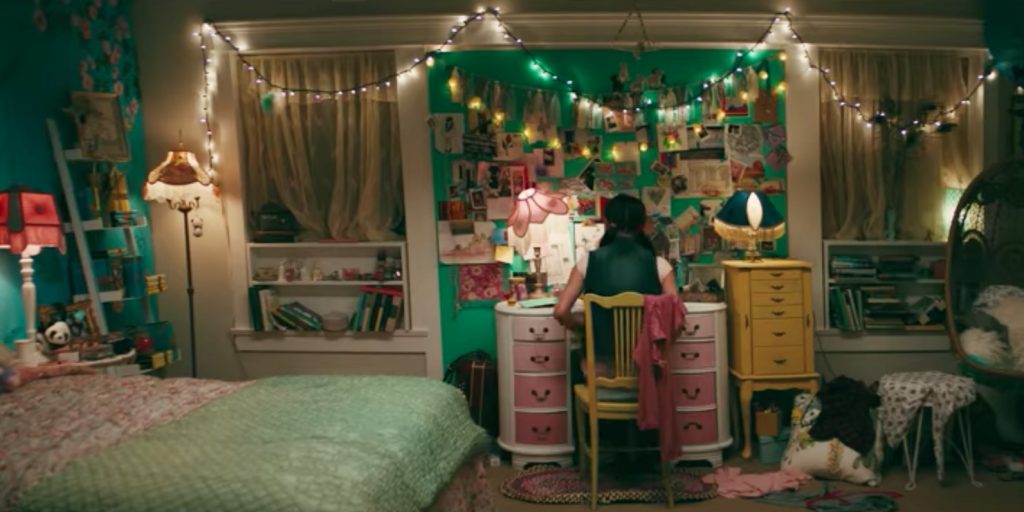 The production design team on this movie did a killer job. Lara Jean's room is a treasure trove of details. The high school feels like a classic high school. The diner is magical. I want to spend time in this world they have created… maybe I should be moving to Vancouver where they filmed it. I'm don't have the time to start explaining how stunning the hot tub scene was. Everything felt perfect.
Even when they make changes to the book – it's perfect. Example: Peter is supposed to drive a two-seat Audi, however, the Black Jeep Sahara is a cooler car and makes Peter less douchey, much more hot.
Then when the photography department comes in – they knock it out of the park. The film is lit and filmed beautifully. You don't often talk about cinematography for teen rom-coms – but it is worth talking about. There were so many moments that made me notice how well framed the shot was. This is something that Netflix teen shows are good at – 13 Reasons Why is stunning and Atypical looks great. I want this trend to continue.
So when you get beautiful sets and beautiful cinematography – it's only right to have beautiful boys for us all to fall in love with.
Lara Jean has five boys – Peter, Josh, Lucas, John, and Kenny.
Kenny gets zero plot time, which is too bad – because he's Kenny from camp and I'm sure you all know how much I love camp boys. I really wish there was a cute canoeing canoedling scene or some parent trap esque dock scene. Really anything that could somewhat make this movie a 'camp movie' would have made this movie even that much more perfect.
I feel like falling in love with a boy only to find out he is gay is a common trope – but I like how they play the Lucas storyline and make the two close friends. I'm a fan of Lucas. I'm also a fan of the casting of Rwandan-Canadian Trezzo Mahoro.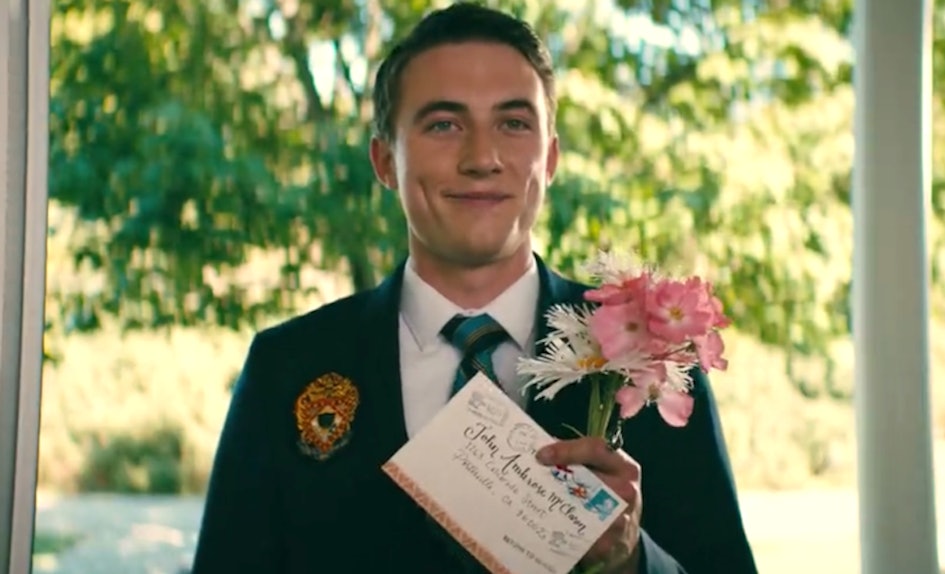 John Ambrose McClaren is the boy you will all fall in love with once you read the 2nd book. He makes a small appearance in this movie and I'm not sold on the casting of Jordan Burtchett.   As much as I love a good Canadian cast – I have this feeling like they casted him just for some tax credits. John Ambrose has a massive story arch and I'm just a little nervous to see if Burtchett can carry it. Can he stand up to Noah Centineo's Peter? He has a charming youtube presence so it might work – verdict will be out until they make the 2nd movie.
Then we have Josh Sanderson.
First off – great last name. I particularly like how Peter Kavinsky is forced to say 'Sanderson' quite often, so I can imagine what it would sound like if Peter Kavinsky was talking to me… But more importantly – Josh is the boy next door. It's a classic trope for a reason – so many girls I know have been in love with the boy next door or down the street. He's her first boyfriend. Or rather… Boy Friend. There is a space there. I think we all chase a boy next door at some point in our lives and Josh Sanderson is the perfect boy next door. Israel Broussard's look fits the bill however Broussard has some problematic tweets which instantly takes him out of consideration. We can all love Josh Sanderson and ship Josh/Lara Jean, but people will not love Broussard in the way that people will love Centineo.
Josh is really the catalyst of the movie – he pushes the story forward in a way that other characters don't. Lara Jean only goes after Peter because she doesn't want Josh to know the truth. She keeps it up because of Josh.  Josh drives the wedge between her and Margot – which is sucks, but is also a key part of Lara Jean growing up and gaining independence from her sister. Lara Jean also finally comes to the realization that she's in love with Peter for real because of Josh…
"You still think you haven't gotten a love letter?" — Josh Sanderson
I wish Josh was a bigger character in the 2nd and 3rd books but I understand that Lara Jean moved on and thus we all moved on from him. So let's move along to…
Peter Kavinsky. The one with the beautiful eyes.
Peter Kavinsky is the perfect rom-com lead. He feels like a 2018 Jake Ryan and I'm 100% ok with that.  My all time favourite movie when I was in high school was 16 Candles. I must have made my high school friends watch that movie a hundred times when I was younger. There is this magical moment when they are all watching the movie and he asks why they like the movie and Kitty responds: Jake Ryan and Peter comes back with, "I'm way better looking than that guy." I died. 16-year-old Paula lost it.
I've always talked about how John Hughes just got teenagers – and I would say that Jenny Han gets teenagers. She has build a male character that is equally perfect and relatable.
He's smooth, ridiculously charming but most importantly – he's kind and I think this is what endears him to the audience.  
Let's just break down some of his most endearing moments.
"I'm not the only guy who got a letter… wow, you really think your special and then you find out she wrote love letters to two guys."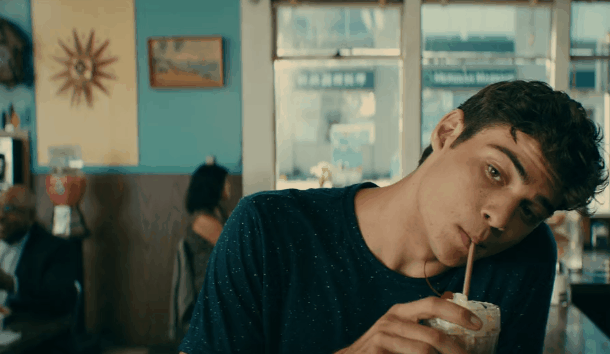 The way he challenges Josh and makes him realize that Lara Jean isn't waiting around for her.  I think a lot of girls would love to have Peter Kavinsky fight Josh Sanderson for them. Just saying.
"I could write you notes."
There is something so special about a handwritten note. I still have a collection of notes that people wrote me in high school and various people over the years. The notes from boys have an extra layer of 'special' because they are rarely written and mean that much more. They all live in a box – granted not as nice as a hat box – and on occasion, I take them all out and re-read them. To offer notes – especially in the era in texting is crazy romantic.
The hand in the pocket spin. Enough said.
His relationship with Kitty makes me love him even more. Throughout all the books and movie – Peter is so wonderful to Lara Jean's kid sister. He treats her with respect and works hard on making her happy. There is this wonderful scene in the 3rd book where he tells Kitty that he'll still hang out with her even if he and Lara Jean break up and it legitimately made me tear up.
The phone backgrounds.  Again – look at this photo and try not to tear up.
I love that this whole story is about confronting fears. Again – I'm going to say that Lara Jean is ridiculously relatable.
First off – we get Kitty calling Lara Jean out for sticking to her comfort zone:
"Don't you find it depressing that it's Saturday night and you're having a golden girls marathon with your little sister."  
I spent the last two weeks hanging out at home reading these books – I feel like Kitty would judge me haha.  
I so understand this sentiment that Lara Jean has "I love to read about and write and think about. But when it's real, it's scary."
I really get it and I adored this little exchange between Peter and Lara Jean at the diner:
P: You don't seem to be afraid to be with me.
LJ: Well there's no reason to be
P: Why's that
LJ: Because we're just pretending.
It's heartbreaking for Peter but so understandable for Lara Jean.  But I love that as the story progresses, Lara Jean realizes that she wants to get out of her comfort zone:
"I don't want to be afraid anymore. I want to be brave. I want… life to start happening. I want to fall in love and want a boy to fall in love with me back -Lara Jean"
Here's the big question she needs to ask herself as she moves out of that comfort zone: How do you tell your fake boyfriend that you have real feelings.
So it's so SATISFYING when it does happen… during the HOT TUBE SCENE.
This is the scene that other movies will reference in the future. People will want to make out in a Hot Tub like Lara Jean and Peter.
I can't help but fall head over heels for this boy.
It all blows up in her face, but it also pushes their relationship into a position where they finally make it happen for them – for real. Ugh. It's all so good.
AND THEN THE ENDING…
"My life was a mess but I could clean my room." Preach girl.
She gets into her car! She marches. Then brings Peter a new letter…  
This is what happens:
Lara Jean: I need you know that I like you not in a fake way.
Paula: 😭
Lara Jean: I've always fantasized about falling in love in a field… I just didn't think it would be a lacrosse one.
Paula: 😭😭😭😭😭😭😭😭
So now what.
We wait and pray for another movie… and watch videos like this on a loop…