One of the perks of working in TV is that I sometimes hang out with film people who give me free tickets to movie previews. Last night I got invited by Firecracker Podcast and Pioneering Women to see Olivia Wilde's directorial debut, Booksmart.
It was phenomenal.
The basic premise is simple. Two stellar students did it "right", focusing on school, extracurriculars and getting into their dream schools. It works – they're both off to ivy league schools in the fall, but… much to their dismay… so are the kids who partied. To make sure they have a 'complete' high school experience and prove that they too can also 'have it all' – they plan to go to the last high school party before graduation. Hilarity ensues.
Watching this with a theatre full of industry ladies was perfect – people were screaming, laughing, crying, cringing… people were loud in their love for the film.
There were so many reasons to love this film.
Off the top, the casting was amazing.
This is a career-making movie for Beanie Feldstein (previously known for Neighbors 2: Sorority Rising, Lady Bird and being Jonah Hill's little sister). Sure, she's got a famous family/friends – but this gal has talent. I'm expecting Oscar noms sooner than later for her. I am now a fan and will give my money to anyone who casts her. Kaitlyn Dever equally shines. She's was listed in the Variety's 10 Actors to Watch in 2014 (alongside Miles Teller) and I feel like she's finally hit her stride. The chemistry between Feldstein and Dever is amazing and these two carry this movie.
The adult bit parts went to phenomenal actors such as Jason Sudeikis, Lisa Kudrow, and Jessica Williams – who all brought their A-Game.
I also think we'll be seeing a lot more of the young women that round Booksmart. stole every scene she was in. Molly Gordon makes you equally hate and love Annabelle aka "Triple A". Diana Silvers as Hope and Victoria Ruesga as Ryan both feel fresh as love interests for Amy.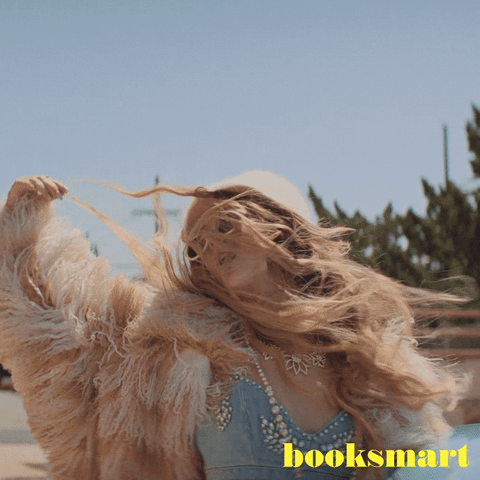 The boys in this movie were fantastic. In the category of "cast with famous family members" – Molly's love interest Nick is well played by Mason Gooding aka Cuba Jr's son. I am super interested in Skyler Gisondo – his character Jared was equally heartbreaking and endearing. Eduardo Franco as Theo and Nico Hiraga as Tanner need a buddy spin-off. I would also like a buddy spin-off of Noah Galvin as George and Austin Crute as Alan.
These actors were ridiculously gifted with the world they got to bring to life.
The production design and costume departments created a rich, colourful, easter egg filled high school to live. I want to spend a day in Molly's bedroom looking at all her feminist posters.
The soundtrack that goes with this movie is AMAZING. I cannot stop listening to it. (You should probably hit play in this and keep reading…)
The writers – Emily Halpern, Sarah Haskins, Susanna Fogel, and Katie Silberman – crafted a killer script. This is a movie that feels instantly quotable – maybe because it has amazing references we already all know and love, but also because the wit that this movie has is top notch.
The dialogue is fast, smart and funny. It has a bit of that Amy Sherman-Palladino magic. I already want to re-watch it and see if I can discover more jokes, more layers.
It would be easy to label this movie as a 'party' movie – but to say this is just a 'party' movie would be a disservice to the nuanced film. The writers have truly crafted something special here.
Of course – I cannot praise this movie without praising Olivia Wilde. For her directorial debut – this is stunning. If this movie was about boys, and Wilde was a guy, it would easily be in contention for award season – however, because it's a FEMINIST film, I think (sadly/realistically) this movie will springboard her career forward and we'll see her on award season director lists in the future.
I just think she gets it.
Without giving too much away – this movie isn't really about the party and the last night of high school. It's about the friendship between Molly and Amy.
Olivia Wilde has this great quote in Vanity Fair:
"During this 16-, 17- , 18-year-old experience, that late adolescence, there is so much emotional and literal upheaval," says Wilde. "Your life is cracking open and changing, and there's this one person who knows you so intimately, better than your parents. I think about it as finding your first soulmate."
Throughout this whole movie, I just wanted to text my high school best friends.
LBH, this film resonates because I was(am?) a Molly. My friends and I were so focused on school and extracurriculars that we didn't go to parties in high school. We were the 'good girls', the 'overachievers', the 'student government types'.
This is a real text my friend sent me:
"Care to send me your Tempest essay? I'd love to plagiarize it for my presentation on the play tomorrow. I could give you a response on The Dignity of Man by Pico in returnnnn"
So yeah… these are the kind of things we were thinking about.
There is this wonderful scene where Molly realizes that she's not better than her peers – that she could have partied and gotten into the school of her choice. I distinctly remember the moment my friends and I had that same realization.
So we, like Molly and Amy in Booksmart, did what we did best – homework.
Take this lovely little grade 12 story:
I had one friend who will remain nameless who created a ranking system for the boys we went to high school with, in the quest to find boyfriends. With the precision she'd bring to university apps and history homework – she went through the yearbook to find the group of guys who would a) be eligible for us to date (ie. single) b) raise our social standing and c) were not on too many drugs. Did she find the ideal guys? Of course she did. Did we date any of them? Of course not.
My best friend in high school was Beth. We were rarely seen apart those four years. We were very much a package deal. From sitting in the math wing doing homework at lunch to watching movies we rented from Blockbuster on Friday nights – whatever we did, we mostly did it together. I was involved in a thousand clubs and dragged her along with me. When she got her licence – we got to cruise around in her mom's van – a car we affectionately called the Bethmobile.
Beth was there for me through the highs and lows. Over those four years, we cried, laughed and everything in between. When I lost student council elections – she sent me flowers. When she wanted to go to NKOTB concerts, I was there, fangirling with her. When I think of high school – there are very few memories that don't include her. She was very much my ride-or-die.
We both moved away after school – I moved first to Halifax and then to England. She then moved out Alberta. We don't get to see each other often and we often go months without talking, but whenever we do – I feel 16 again in all the best ways.
Sometimes I think about how we should have been more 'chill' in high school – but who am I kidding. I loved my high school experience and what I loved most about it was my friends. I wouldn't change anything because these girls meant (mean) the world to me.
I think we all have these high school friends – the friend that truly understood you. My high school friends continue to be an important part of my chosen family.
So yeah – this movie is a movie about two friends wanting to go to a party – but it feels so much more like a love letter to nerds and their high school friendships.
So go find your nerdy best friend. Go see Booksmart with them. Or at the least, watch this film and then when you're crying during the credits – give them a call and tell them you appreciate them.