Welcome to a new series of TBT blog posts. I really want to talk about TV shows that are classics. The shows I grew up watching that inspired me to have a career in TV. I want to revisit what made these shows special. Ideally, these posts will make you want to rewatch your old favourites or start a classic series for the first time.
When I was in first-year university, I was friends with a group of girls from rural New Brunswick. Basketball was the heart of their communities – they would talk about going to games and having the whole community rally around a team. One was from Bathurst, NB and she would sometimes talk about the impact the crash had on the whole town.
In their towns, high school sports mattered – sure it was fun, but it was much more than that. These were the girls that told me about Friday Night Lights.
I was hooked instantly. The pilot is incredible TV. It perfectly sets up the town, the characters, and the importance of football to the whole community of Dillon, Texas. Retrospectively, The Ringer recently named it one of the top 10 pilots of the century and ranked it #18 on their list of the 'Top 100 TV Episodes of the Century'.
I inhaled the three seasons the girls had on DVD and then I joined in watching the last two seasons week to week as they came out.
When the series ended in 2011 I was equally devastated and completely satisfied. To this day, I argue that FNL had one of the best series finales ever. (Again, The Ringer put it on the top 10 series finales of the century).
Although the show is over and I'm no longer friends with that specific group of girls – I think back on both fondly.
I have met many others over the years who had similar experiences with FNL. It is the show I use as a 'good taste'/'good people' marker when I start chatting TV with people I don't know. If you watch the show, we're going to be friends – you're my kind of people.
Nylon  magazine said it best – "In the Venn diagram of TV snobs and indiscriminate binge-watchers, there is one show that reliably exists in the overlap: Friday Night Lights."
The people who watch this show understand 'Texas Forever'. They finish "clear eyes, full hearts" with a confident "can't lose".  These are people who can appreciate the dream of his and her closets, BBQ, and Tim Riggins.
I love the way GQ's Joshua Rivera summed up his love for FNL – "But mostly, I love Dillon, Texas, perhaps the most warm and fully realized fictional town depicted on broadcast television, and I'm always ready to go back to its dry sunsets and sad electric guitars."
I agree completely.
There is something gritty about this show. It's more than grainy, gritty cinematography (which I love). There is a realness to it. You feel like Dillon, Texas is a real place and that these characters are real people.
There were only 3 characters listed as main for the full run – the Taylors:
Kyle Chandler's Eric Taylor and Connie Britton's Tami Taylor are two of the greatest TV characters around. As individuals, their characters are interesting, complex and iconic. Coach Taylor's monologues are legendary and watching Tami find her own passion in education is a joy. Together, these two are the OG #CoupleGoals. The word equal comes to mind. Their friendship is striking. Some of their best moments are when they sit in silence together. They aren't always perfect and these two have had their share of fights – but their flaws are so wonderfully real.
(p.s. please enjoy this Y'All video)
My only question is how did two wonderful people could raise such an awful kid? Aimee Teegarden's Julie Taylor was widely known as the most unlikable character on this show. She had her positive moments but if we look at her over the five seasons – she was not great.
While we're talking about flawed moments…
I've already talked about how the show had successful bookends, but the middle was touch and go there. Originally the show aired on NBC but was derailed in the second season with a terrible plot and the writers strike. When it starting airing on DirecTV for season three, the show seemed to get it's mojo back. It could be argued that season four was a 'relaunch' of sorts – but not in a bad way. Season four really pushed the show forward and set up the fantastic fifth season.
As the show evolved it would have been easy to follow the kids as they left high school and focused on what happened after Dillon (ie after season 3). However, the show chose to remain focused on the Taylor's and the other adults in the town (ie Buddy Garrity's (Brad Leland), Mac MacGill (Blue Deckert), and Mayor Lucy Rodell (Libby Villari)). The kids rotated back into the show in relation to these adults and the Tayor family.
In the early seasons, we were gifted with Panthers Jason Street (Scott Porter) and Brian "Smash" Williams (Gaius Charles). Buddy's daughter Lyla Garrity (Minka Kelly) was the dream of so many boys I knew. Bad girl turned girl with a lot of potential Tyra Collette (Adrianne Palicki) was a joy to watch develop.
Matt Saracen (Zach Gilford) made me cry more times than any other teen boy character I've seen on TV.  His relationship with his grandmother Lorraine Saracen (Louanne Stephens) was equally endearing and heartbreaking. His relationship with Julie was not my favourite, but it was because of his relationship with her that his relationship with Coach Taylor was more nuanced than the other players. Gilford's performance in 'The Son' (S4E5) was some of the greatest acting on network TV. Matt also brought in Landry Clarke (Jesse Plemons). Landry grew into his own character than the sidekick he started out as. Shoutout to Crucifictorius. Also, shoutout to Jesse Plemons whose career took off after FNL.
Of course, we can't talk about those early seasons without talking about Tim Riggins (Taylor Kitsch). Maybe it's because Kitsch is Canadian, maybe it's because he's ridiculously hot but '33' is still an obsession for me and many others. He's a simple guy – he likes beer, football, and girls… in that order. He is the embodiment of the 'Texas Forever' spirit. He could have been extremely dislikeable – but instead, Riggins is charming. His relationship with his brother Billy Riggins (Derek Phillips) is fantastic TV. The sacrifices Riggins makes for his family and the people he cares most about making him one of the most beloved TV characters on this show/of all time.
Even supporting characters in the early years left their mark. I'm thinking about Smash's mom Corrina Williams (Liz Mikel), Herc (Kevin Rankin), Waverly Grady (Aasha Davis), Jackie Miller (Brooke Langton) and Bo Miller (Jae Head).  Ray "Voodoo" Tatum (Aldis Hodge)  was one of the all-time great football villains.
In season 3 we got J.D. McCoy (Jeremy Sumpter). J.D. was meh, but I will forever love Jeremy Sumpter aka Peter Pan.
During the season four change, we got to meet a new batch of players. Think Vince Howard (Michael B. Jordan), Luke Cafferty (Matt Lauria), Hastings Ruckle (Grey Damon), Buddy Garrity Jr. ( Jeff Rosick), and Dallas Tinker (LaMarcus Tinker).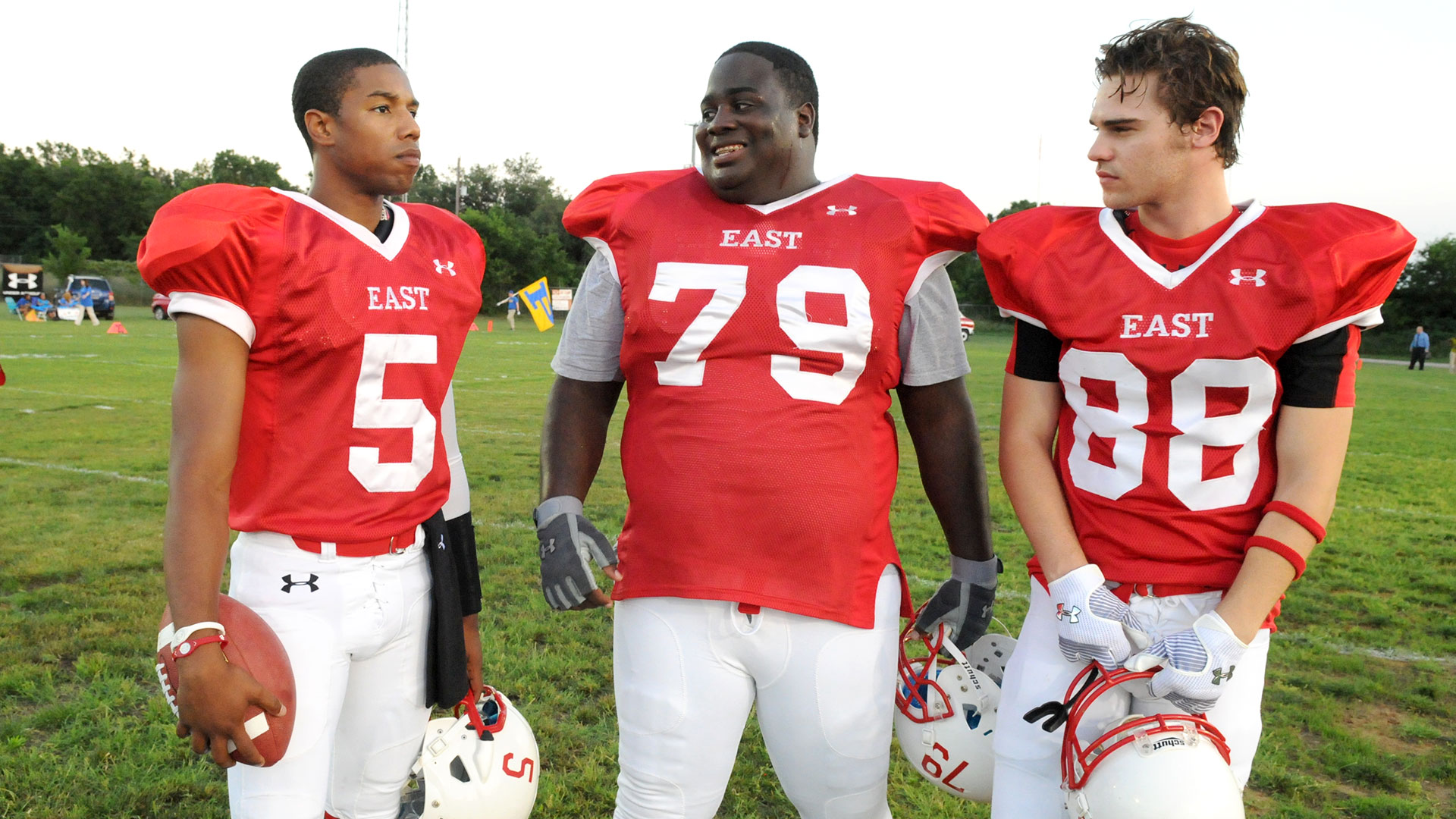 We added Becky Sproles (Madison Burge) and the amazing Jess Merriweather (Jurnee Smollett).  Jess specifically stood out to me.
While FNL had strong female characters – the football side of the show didn't have any. When Jess showed up and got involved in coaching. Wow. I would have watched a Coach Jess spin-off… especially if Michael B. Jordan was there too 😉
Obviously, a really important part of this show is football. It's the driving force and the thing that all these characters have in common. They all feel something towards it, for some, it's love and others it's hatred.
You don't need to know how football works to enjoy watching the team play. This is 'TV' football and the hours it would take to play a normal game are distilled into an important moment montage. In most episodes, football might seem like a climactic moment, but really we don't care about the score of the game. We care about the characters – and if they care about the score.
For example – right from the pilot, we didn't care if Street made the pass. We were much more concerned about his well being. We cared about Lyla and Tim and how they were going to handle it. We cared about Matt stepping up. We care about all these other things – but the score was just icing on a cake.
The show touched on major topics – classism, racism, war, family, abortion, relationships, values. Major conversations took place about working-class southern America.  Yet, as someone who was not a working-class southern American, it made these conversations accessible and relatable. It was truly one of a kind.
When the show launched a 'for your consideration' campaign in 2011 they described themselves like this:
"FRIDAY NIGHT LIGHTS is the defining network drama of the last 10 years. A fiercely inventive, meaningful show about people with big hearts living in small town America. About how we raise our sons and daughters. About the most well-rounded portrait of marriage ever seen on television. And belonging to a place where people are bound together by something deep, lasting and true. Every day counts. One night matters. Texas is forever."
That final season ended up with four Prime Time Emmy nominations:
Outstanding Lead Actor in a Drama Series – Kyle Chandler as Coach Eric Taylor
Outstanding Writing in a Drama Series – Jason Katims, "Always"
Outstanding Lead Actress in a Drama Series – Connie Britton as Tami Taylor
Outstanding Drama Series – Friday Night Lights
Ultimately winning two: Kyle Chandler won for Lead Actor and Jason Katims's "Always" (the series finale) won for Writing in a Drama Series.
I cannot think of a show that is more deserving of these awards.
Someone created this trailer for the consideration campaign that sums up all five seasons. I come back to this video all the time. It brings back all my favourite memories of the show. It is the highs and lows. It's everything that made this show special. It makes me tear up – it's that good.
Fair warning – there are key spoilers in this trailer, so if you are planning on watching the show this might not be for you. 
All in all Friday Night Lights will always be one of my all time favourite tv shows.
If you are thinking about watching this show for the first time, I apologize for season two. Enjoy the rest and you'll find it's a real treat.
If this post is inspiring you to rewatch the show here are my top episodes:
S1-E1 – Pilot
S1 – E22 – State
S4 – E5 – The Son
S5 – E13 – Always
Here's to good friends living large in Texas. Texas Forever.