It is a well-established fact that I love rom-coms. Plus, I'm on a bit of a foreign tv bender. Thus – I knew I would love The Hook Up Plan – I just didn't know I would love it THIS MUCH.
You might have heard of the show. It had a GREAT teaser:
And an even better trailer:
The Hook Up Plan on the surface is simple – Elsa cannot get over her ex. So her best friends, Charlotte and Emilie, wanting to help her move on and build up some confidence – hire a male escort. The plan (obviously) spirals out of control and hilarity ensues.
On a deeper level, it's a show about female friendship, modern dating, and finding yourself despite external pressures.
It is beautifully written – the characters are rich and complex and the pace is fast and witty. The references are fantastic, the teasing is smart, and overall the show feels authentic.  The Hook Up Plan can make you laugh as easily as it can make you cry. It's a romcom – so sure there were moments that felt a bit cliche – but the twists kept this show fresh.
One of the reasons I fell in love with this show – was the relatability of the characters. I feel like I'm a bit like each of the girls on the show and they each remind me of different friends I have.  None of them are perfect – they all have flaws.
Emilie (or Milou as her friends call her) is very stuck up, stubborn and controlling. She's also extremely confident, career-focused and has never-ending energy despite being pregnant.
Charlotte is brash, crazy, and doesn't seem to have much ambition, yet she's charismatic, she's so much fun, and sure – she might have a stupid idea now and a then – but she's got many more great ideas.
You could argue that Elsa is pathetic the way her ex has a hold over her, that she still lives with her parents, or that she is somewhat plain compared to her friends – but you could also argue that she is a romantic, she cares about her family, and she is the glue that holds everyone together. Watching her journey of self-discovery and towards independence is perfection.
I desperately want to talk about the specific shenanigans these girls get up to and the twists and turns in this show – but I'm not going to spoil anything.
This is my pitch for you to WATCH this show.
I will say that the story has a well-done ending. It's worth watching. The pay-off is fantastic.
Beyond our core-three, we've got to talk about the boys in this show.
Elsa's ex Matthieu, Charlotte's current man Maxime, and Emilie's partner Antoine are all best friends. Their chemistry is just as wonderful as our core-three friendship. Maxime and Antonie are wonderful and watching them support the women in their lives is fantastic. Watching them manage the Matthieu and Elsa situation is also a joy. Big fan of these guys – I want to be friends with them.
But obviously – we're all here for our main man, Jules.
Jules is a male escort – but a high class one. The writers have done a great job of developing a well-rounded character and one worthy of leading man status. Casting was well done – Marc Ruchmann brings authenticity to a potentially sleazy role.
Just look at the man looking at Elsa. How can you not fall in love with him?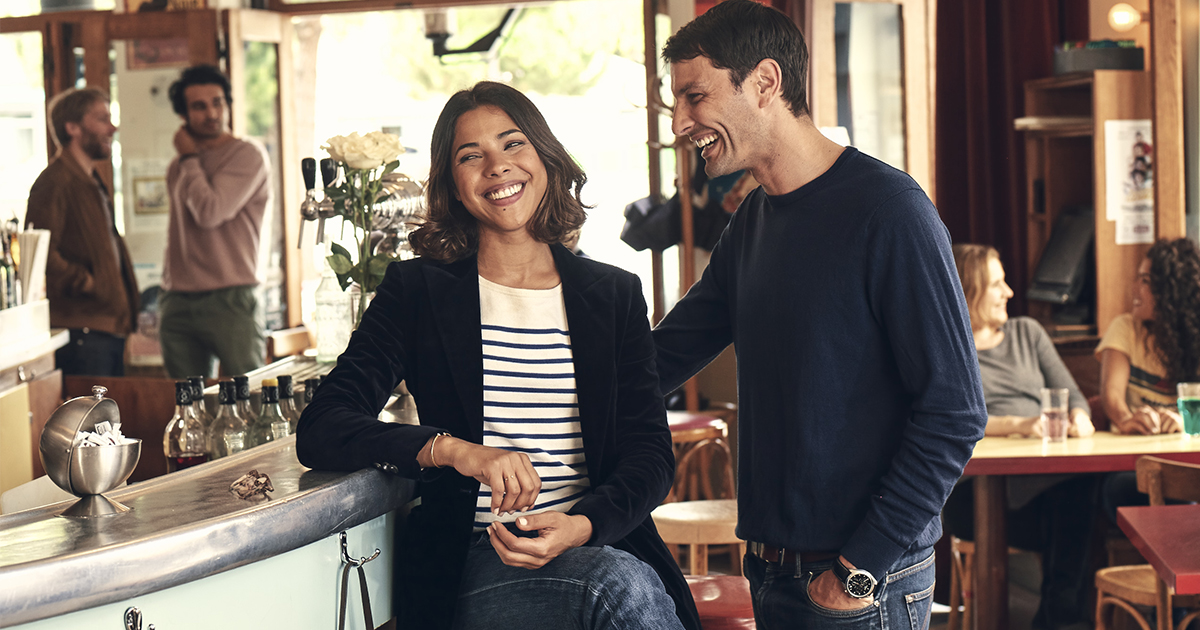 This show is a joy to look at. We've justed talked about looking at Jules, but you could not have a better setting than Paris for this type of story. Sure the girl's lives might be a mess – but they look so cool. Being French just gives the whole show an air of sophistication. The fashion is impeccable. I would like Elsa's wardrobe… specifically her killer trench coat. The locations are stunning – because PARIS is stunning. Even the built sets are fantastic.  This is the kind of show that makes you want to get on a plane and spend time in a Parisian cafe.
"But I don't like watching shows with subtitles…."
I know you probably like to do other things when you watch tv – I know I do, but coming in at under 30 minutes an episode – I know you can give the show your full attention for that long. It's worth it for the French accents.
Watching a love story in French is so much more romantic than watching some random American story. Like I think Peter Kavinsky is adorable – but the guys in this show, because they speak French, are much more adorable.  I now regret dropping out of French in grade 10 because of this show.  I promise you that the subtitles will not bother you – they make the experience that much better.
I've got to make a pitch for the stellar soundtrack. The music throughout is phenomenal – a mix of classic jazzy french and house beats. The music almost feels like an additional character. There is one song that plays a major plot point in the 2nd half of the season that I can't get out of my head.
Check it out here.
Not convinced yet? Last try:
Take this review from the NY Times:
"This eight-part ensemble rom-com has a fun, madcap energy and terrific chemistry among its stars… Great outfits, great hair. Racy dialogue, racy energy. If you like the kinds of shows in which pals get together in the middle of the workday to have lunch, watch this."
The Hook Up Plan streaming now on Netflix.