How do I even start to describe the joy that this film brings me.
If I'm going to kick off the holiday season I'm going to do it with the McCallisters.
We've all had those hectic mornings before a flight or trip – do we have everything? I'm 99% sure I do. Did we forget something – most likely but I have clean underwear, my toothbrush, passport and a visa so I'm set.
How do you forget a kid you ask? Ask any camp counsellor – kids like to wander. I get it. I'm not saying I've ever lost a kid – but it happens.
So off the bat – it's a highly relatable movie.
Then you chuck in a killer cast.
Macaulay Culkin in his prime.
John Candy and his polka crew.
Wet bandits Joe Pesci and Daniel Stern.
PLUS – Mom and Canadian legend Catherine O'Hara. It's phenomenal.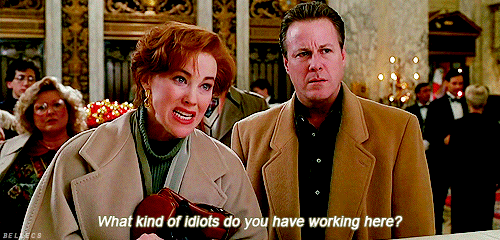 (Fun fact – I once had an in depth conversation about spring roll dipping sauces with Catherine at a WIFT party. NBD.)
Give it some John Hughes magic (and it is magic – this man cannot make a bad movie) and create an instant classic.
Home Alone is a RIDICULOUSLY quotable movie.
My personal top five:
"This is my house, I have to defend it."
"Has this toothbrush been approved by the American Dental Association?"
"Buzz, your girlfriend…woof!"
"Keep the change, ya filthy animal."
"You guys give up or are you thirsty for more"
Finally, give it that classic John Williams soundtrack… pure perfection.
Watch it on Netflix or at Hot Docs on Dec 23rd!