I'm trying something new out – each week I'm going to put together a little weekly wrap-up of all the content I've consumed over the course of the week. Goal is to post these up every Sunday evening. We'll see how this goes – it will probably evolve over time but here it goes…
Music:
Rudimental – These Days feat. Jess Glynne, Macklemore and Dan Caplen.
I love Jess Glynne – I think she's fantastic. I first heard her on Rather Be and I've been a fan ever since. I'm also a big fan of Macklemore. I'm thinking about getting tickets to his show with Kesha this summer. Plus Rudimental is unreal – I saw them live at the Brit Awards in 2014 and was very impressed. So putting those three together is a winning combination in my books.
Justin Timberlake – Say Something ft. Chris Stapleton.
I'm really intrigued by JT's 'Man of the Woods' era. When I think of Justin Timberlake – I don't think about being outdoors, I think of city living. He's super slick, has an urban feel and just doesn't seem like he's the kind of guy to make woodsy music. Wearing a plaid shirt won't change that. Chris Stapleton on the other hand feels like a guy who actually knows how to go camping. He could pitch a tent, chop up kindling, and paddle a canoe. So this pairing is interesting – is Stapleton bringing legitimacy to JT's Man of the Woods era? TBD – but I like this song. I like this video. I'm into whatever this is – even if it's not 'woodsy'.
TV Shows:
Graham Norton ft. Tom Cruise
You're going to see a lot of Graham Norton clips on these weekly wrap-ups. This is one of those can't look away but I totally want to look away clips. Worth it.
Momsplaining with Kristin Bell
The amazing, hilarious, smart, witty etc etc etc Kristin Bell has a parenting web series with Ellen and it's AMAZING. Watch it. Then watch all the other episodes. Total #momgoals
The Most Annoying Voice in Bachelor History
This is a fact. Crystal is the worst. Her voice is just everything you'd never want to hear. I love The Bachelor – but if I have to hear her voice for any more episodes I'm going to be rooting for Bekah M. to take her down this week.
Internet Things:
Jelena Carpool Kareoke
Ok – so this clip is old. But my roommate convinced me this was actually a thing that happened this week before I watched the clip. While I was disappointed this wasn't the real thing – this clip is still pretty magical. It filled my heart with joy.
Meant to #EatTogether.
I'm just going to leave this here and not say much. It has the most impact when you don't know what's going to happen…
Storytime with Carly!
I've been following Carly the Prepster aka Carly the College Prepster for years. She just has this effortless ability to exude classiness – which we all know is carefully curated, and I'm here for it.  As someone who works in Reality TV – I loved hearing about her experiences from the other side. Maybe not the most interesting videos on my list to the majority of people but I liked it. More interesting – her blog and instagram. Check them out too.
Jake Gyllenhaal on Heath Ledger.
I cannot believe that it's been 10 years since Heath Ledger's death. It was the first major celebrity death that affected me. I remember being absolutely shocked. He was only 28 (this shocks me more now as I'm so close to that age). The impact he had on the film industry – but also on me is indescribable.  I've successfully trained my cousins into fans – we've spent so many summers at the cottage watching 10 Things I Hate about You, that this Christmas one gave me the Feminine Mystique.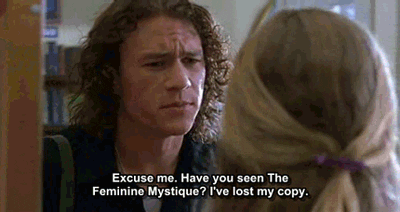 Hearing Jake Gyllenhaall talk about his co-star was exactly what I wanted/needed to mark this moment.
Books:
American Wife by Curtis Sitenfeld
I love reading – and while I don't read as much as I watch TV, I do read quite a bit. This week's book was American Wife by Curtis Sitenfeld. It's a loosely veiled story about Laura Bush – aka George W. Bush's wife. I wouldn't say that I'm a fan of the Bush family – but I was pleasantly surprised. In this story 'Alice' goes from child to teen to young adult to mom to first lady in a story that is captivating, compelling, complex and extremely well written. I highly recommend it – and then when you're done with the book – go down the rabbit hole that is the Bush Daughter's book promo on youtube like I did. Again – I was surprised by how much I liked them.